PitStop


"PITSTOP", sponsored by "The Examiner", competed in the 1974 Devonport Regatta. 392 ci supercharged Hemi Chrysler stroked to 430 ci: 1400 plus hp, 181 mph

2Oft hydroplane originally designed and built in the United States by Wickens.

Owned and driven by Don Preece of Pitstop Motors, Melbourne, Victoria. Powered by supercharged 392 ci stroker Hemi Chrysler, producing in excess of 1400 bhp on Shell A fuel.

This is probably (at the time of writing in 1974) one of the oldest boats still competing in Australasia.

Initially called "Hydrophobia ", built in Southgate, California, and fitted with a Keith Black 286 ci Hillborn injected motor, it held the World Water Speed Class Record at 131.7 mph.

In 1965 it was purchased by Spencer Miller who brought it to Australia and changed the name to "Kangaroo Kid ".

A short time later the boat was acquired by Keith (Crazy Horse) Hooper, the then holder of the Australia Water Speed Record at 133.6 m.p.h. in a hydroplane called "Tiger ".

Keith fitted a 392 ci supercharged Hemi Chrysler to attempt to better his own record but, however, failed to do so.

The boat changed hands again and was re-named by its new owner, Trevor Matthews, "Assassin ". Trevor campaigned this boat very successfully from 1967 to 1971. In that period of time he won three Australasian Unlimited Open Speed Boat Championships, i.e., the Griffiths Cup.

After a couple of frightening mishaps, Trevor sold the boat to Don Preece who in two years re-designed and fibre-glassed the hull and fitted its present and most powerful motor.

"Hydrophobia "—286 fuel injected Chrysler; 600 plus h.p., 131 mph.

"Kangaroo Kid "—392 c.i. supercharged Chrysler; 700 plus h.p.

"Assassin "—392 ci supercharged Hemi Chrysler; 900 plus h.p., 139 m.p.h.

"Pitstop "—392 ci supercharged Hemi Chrysler stroked to 430 ci; 1400 plus hp, 181 mph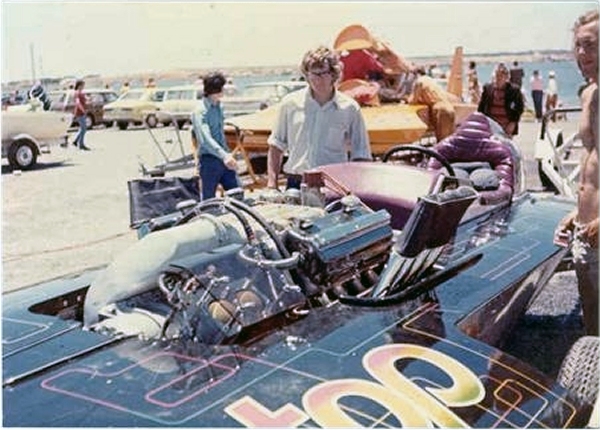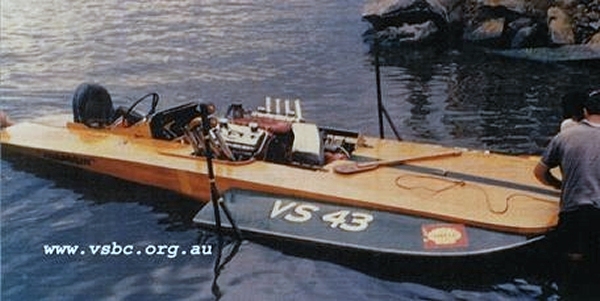 Pitstop as Assassin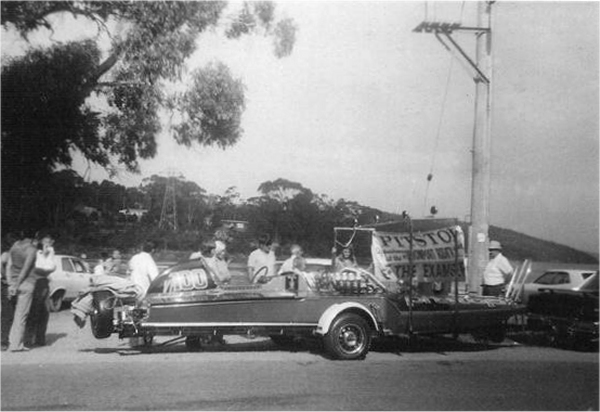 Pitstop at Horsehead Creek, Devonport, promoting the 1974
Devonport Apex Regatta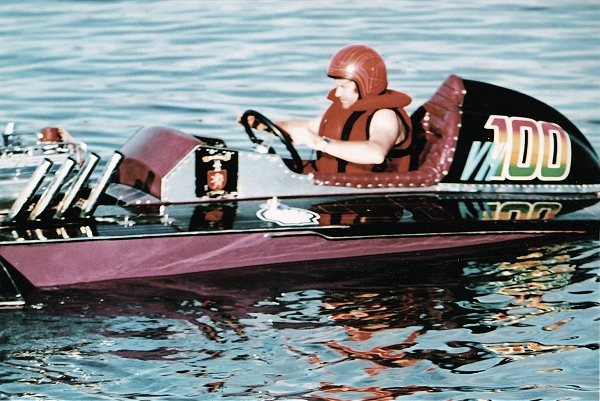 Quickly Too

Grant Lovell

Quickly Too was a DeSilva design from the US., 16ft 6in. x 7ft 4in., built by Grant Lovell when he was 17 years old.

First powered by a Holden 6 and later by the Oldsmobile 225ci. Did just a whisker over a hundred with the Holden and 114mph with the Oldsmobile in 1983.

She was sold to a Mr. Heazelwood, then to G. Rooke. More recently to Stuart Beattie and is now under restoration with Chris Chivers.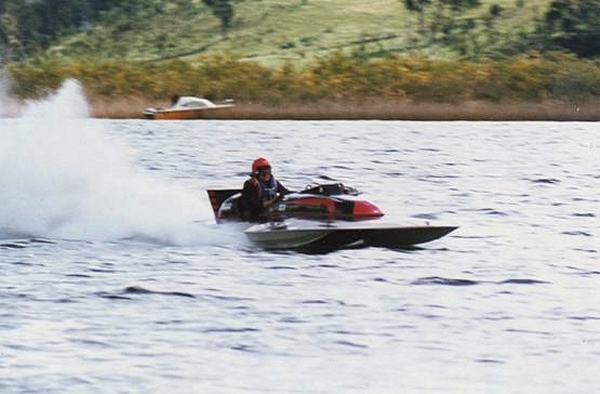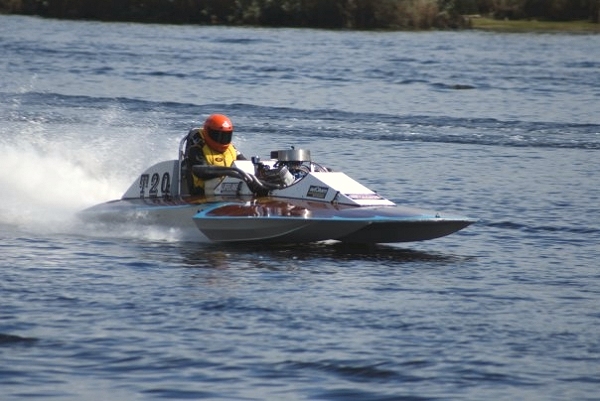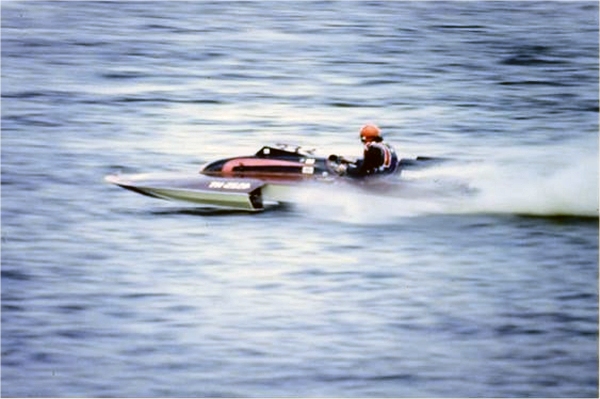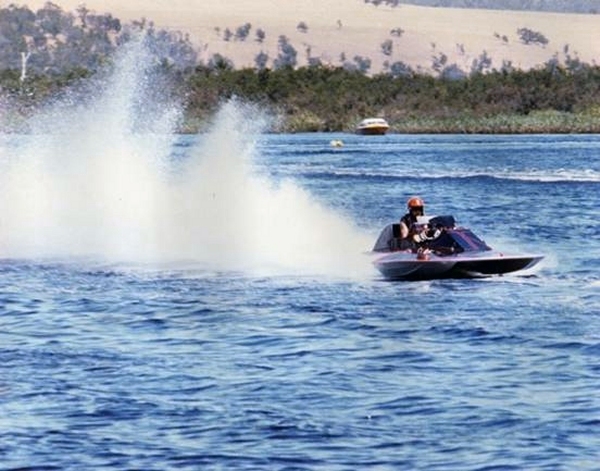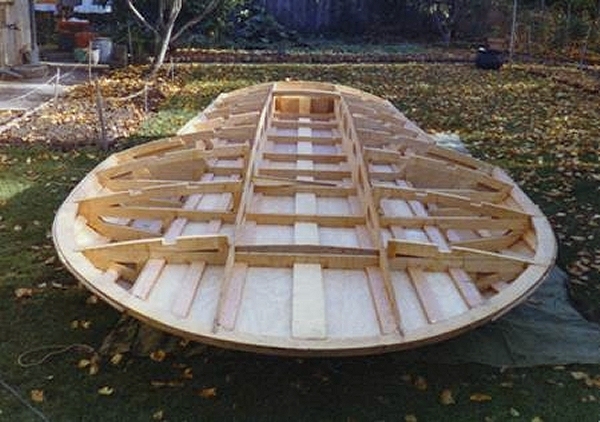 Ro-Anne

Brian Mahoney, early '70s

Ro-Anne was probably built by Keith Bennett and finished by Brian
Mahoney. About 14 feet, powered by a Ford 75ci and then a Ford
Lotus engine. Was raced all over Tasmania and some Titles in
Queensland in the early 70's.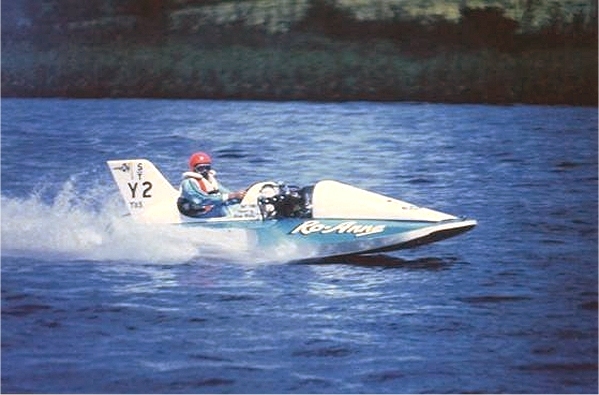 Road Runner

Francis Ransley, John Palmer, Nigel Palmer

In 1968 New Zealander Peter Knight built "Road Runner" to pursue the most prestigious trophy in New Zealand powerboat racing, the Masport Cup. "Road Runner", designed by Henry Lauterbach, was fitted with a Ford V8 engine. Knight's first Masport Cup triumph came in 1973 at Lake Karapiro. He retained the cup with victory at home the following year.

"Road Runner" was imported to Tasmania by Francis Ransley of Wynyard. It was fitted with a fuel injected 400cid Chevrolet engine producing a dyno'd 660 bhp (a modest output considering the achievements of the boat) and more importantly, mountains of torque, necessary because of high gearing: "Road Runner" had a 50% step up gearbox.

It holds the Tasmanian Unlimited and 7.5 litre Australasian speed record at 142mph, (and because the classification no longer exists, it's a record unlikely to be broken).

The boat was purchased by the Palmer family of East Devonport. John Palmer had success with the boat including winning the 1987 Devonport Cock of the Mersey, but never managed to beat the speed record set at the kilos.

"Road Runner" had an altercation with a sand bar which resulted in the boat being badly damaged and is awaiting repair.

From Francis Ransley:

"When I got the boat I sold the Gurney Westlake motor to a chap in Penguin who wanted it for a race car. I tried a 350 chev motor I bought from Peter Cooper in the boat but it was much lacking, so I decided to build my own motor especially for the boat, which I did. New 400ci Chev block, Brownfield heads, Hank the Crank shaft specially made, Carrillo rods specially made, Aries special pistons, etc etc.

Wanting to protect my investment, I sent all the parts to Tom Szekeres at Dyno Services in Melbourne to be assembled and tuned. Tom was not very enthusiastic about the kit, but I talked him around and the rest is history. Road Runner had a Cassales 12' angle box, and I fitted 50% gears driving through an 1 1/8 shaft made by Heat Treatments P/L, a division of Mc Greggor Bros P/L in Auckland NZ, which cost me $1750

The slowest part to get made was the prop, specially made to suit boat and motor, by Phil Rolla, of Record Propellers in Switzerland. He took a year to make a $2500 propeller. (The prop is now at the bottom of the Tamar River) These are 1970's prices, but she was built with the best.

First kilo run was 128 mph, next was 136 mph, then 141.92 and then 141.21 mph.

I lost my pilot and boat licence in 1982, due to heart problems, which I still have, and the disappointment is that I was about 5 mph under the world record, held by Peter Knight in NZ, from whom I bought Road Runner, and I knew where there was another 10+ mph in the boat!"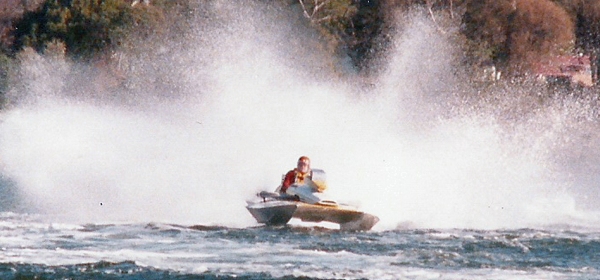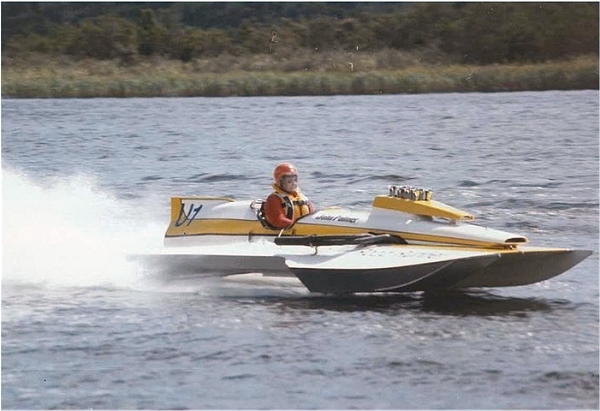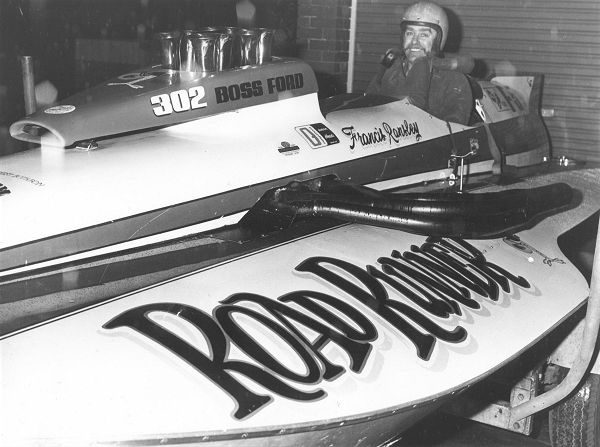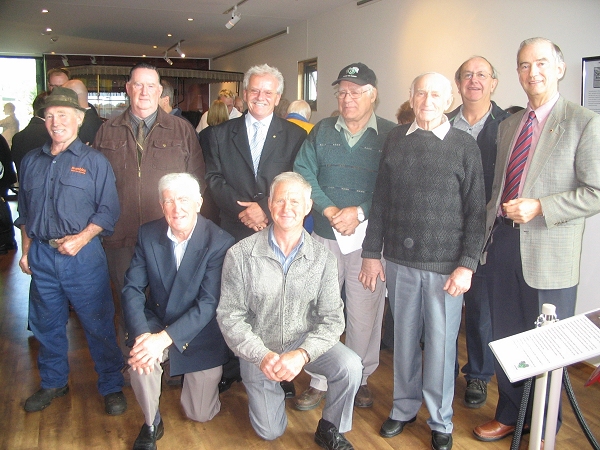 Rocket

Brian Richards

Competed with a 351 Ford, later a 454 Chev.

Last known owner- Peter Smith of Launceston. Possibly
damaged or destroyed in a fire.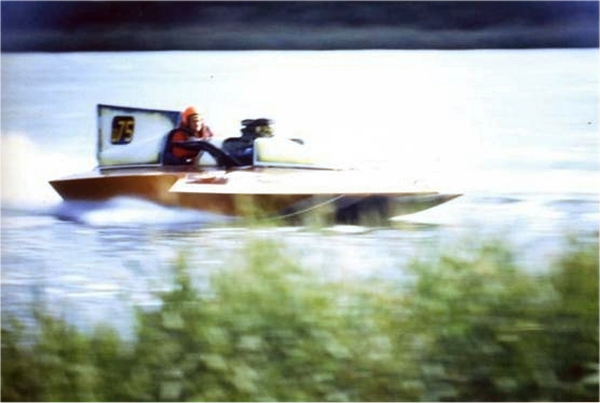 Simcat


O. D (Don) Gordon-Smith, Simpson / Stewart, E. Quon

A modified Noddy powered by a Simca then a Cortina engine.

Recorded 80.29mph at Rosevears in 1961.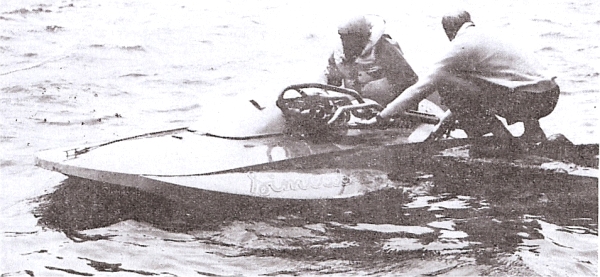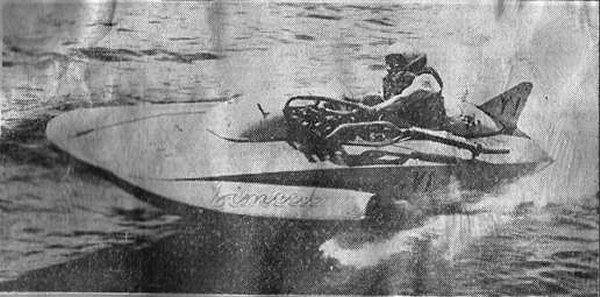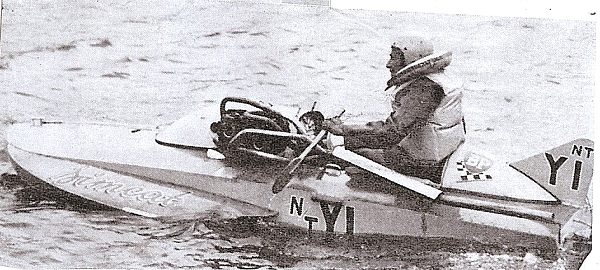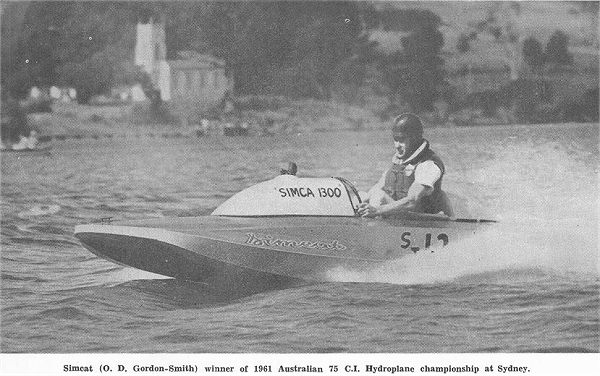 Sirrocco
Built by T. Campbell from the remains of Thunderball, she was powered by a Toyota engine.
She was later sold to Chris Oldham from Hobart.
A new Mercury Twister engine has been fitted. The one that was in her had the top blown off one of the cylinders, probably from hydraulic lock. The inner plate that was replaced has water circulating behind it to cool it from the exhaust gases. That was probably the failure point and it proved to leak. Jason Roughley cast a new aluminium "twister" exhaust plate and finished it by hand for this engine as they are no longer available.
In the old days she was so fast due to the tuned length expansion chambers that Tony Gray used. Really, the only difference between a twister and a regular straight six (excluding the leg exhaust chamber) is the configuration of the exhaust plate.
Sirocco is still in pristine condition with Stuart Beattie.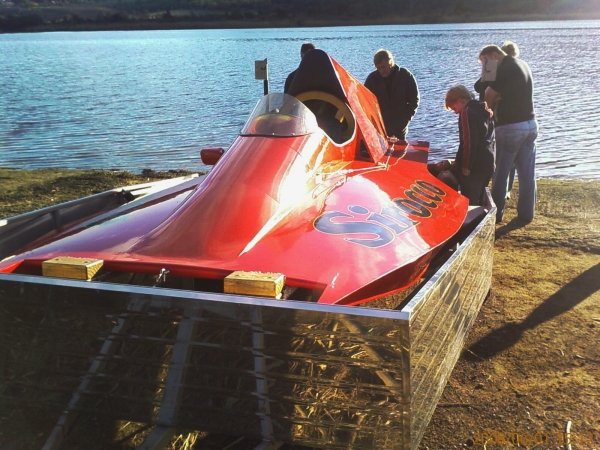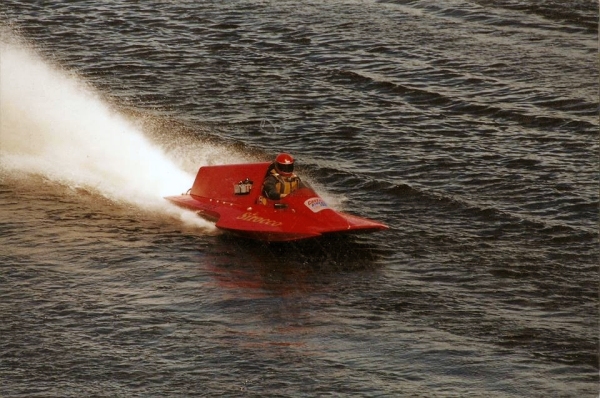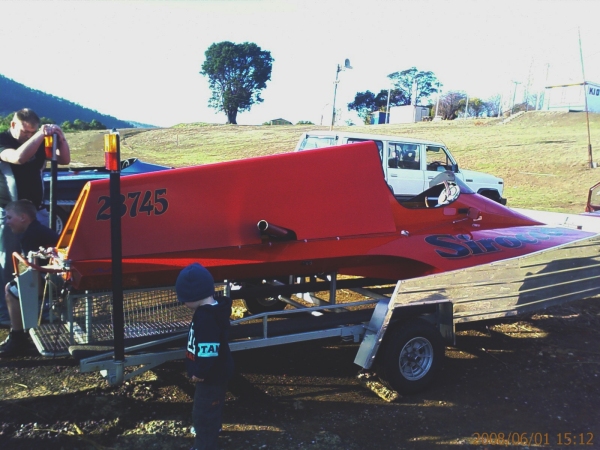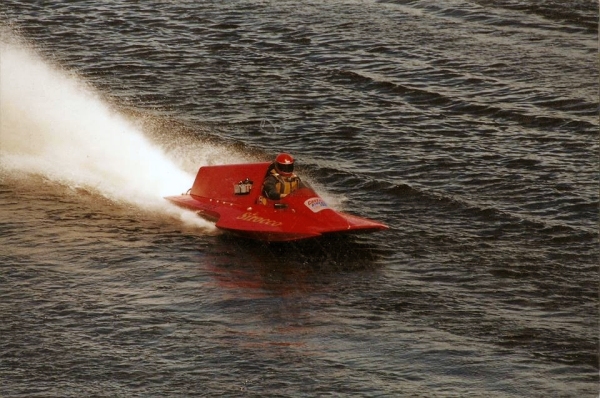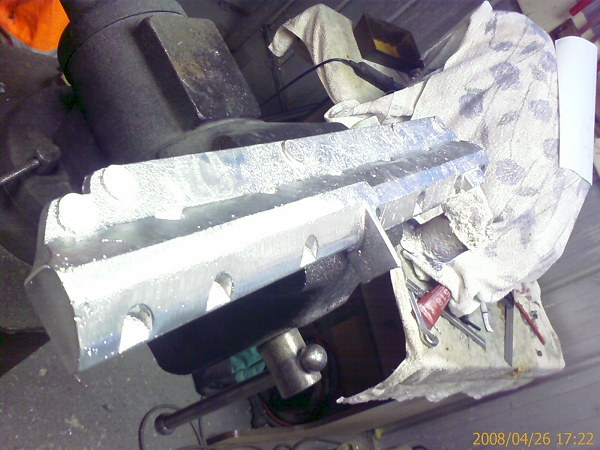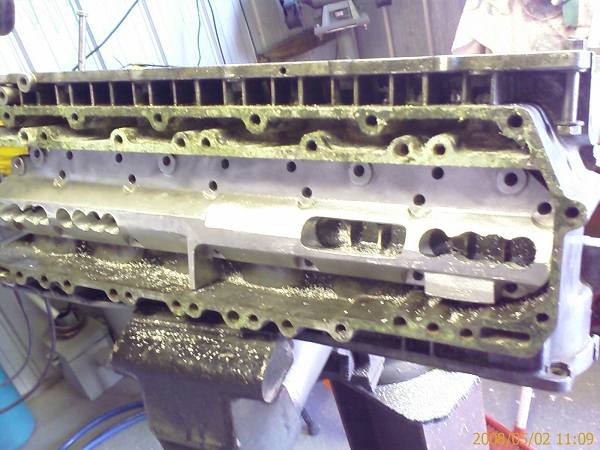 Slipray

Slipray came to Tasmania from N.Z.,the owner was Terry Baynton, who worked at Savage River. As far as I know he was here for a few years before returning to N.Z.

The photo with the boat painted white and yellow was taken by Nigel Lovell at the 1971 Griffith Cup at Lake Eppalock, the second was after a repaint at Rosevears.

She was about 18 feet long powered by a 427cid Chev and very fast.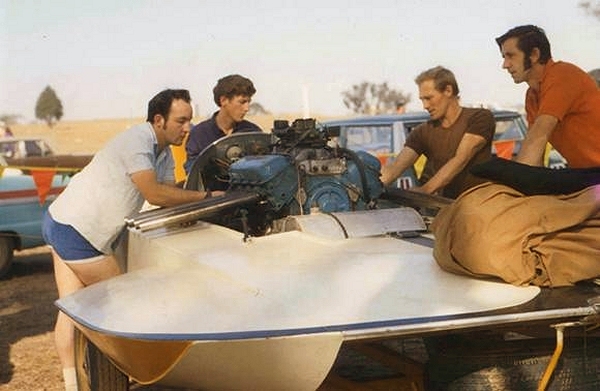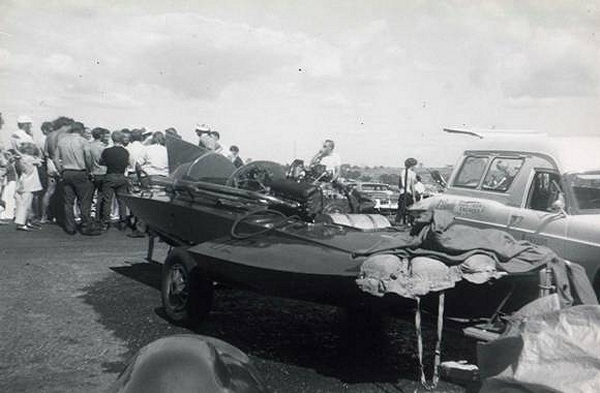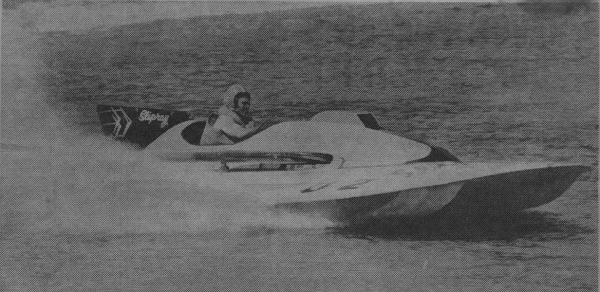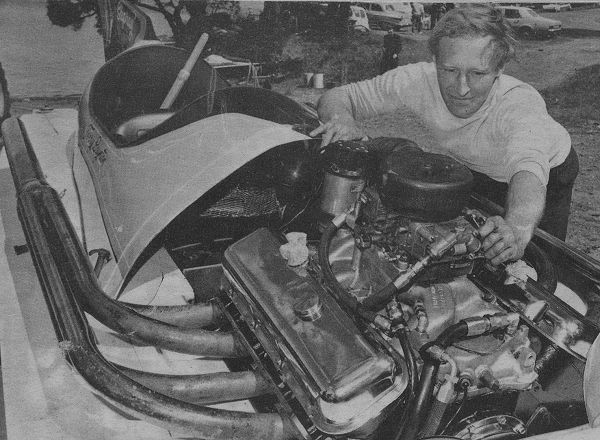 Slo-Mo-Shun
(See Lette III)
Ted Dyas
Corvette V-8 350bhp
Won a Cock of the Mersey.
Boat and driver retired after a frightening incident at Rosevears when
she struck the bank heavily after her steering failed.
This followed a sinking at a previous meeting due to a holed sponson.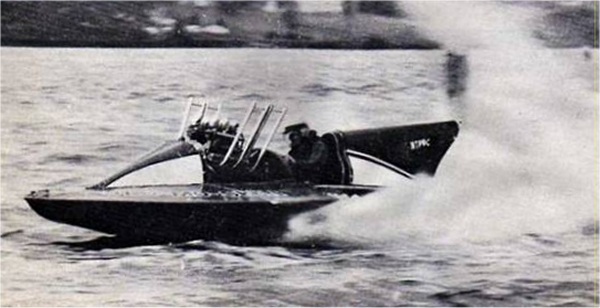 \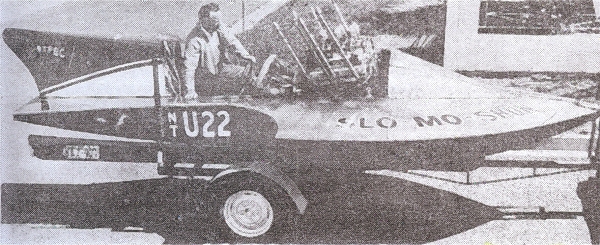 Starburst

Warren Nicholls

He flipped it and it was wrecked ,so when he was able to retrieve
the boat from the bottom of the river he took it home and the
remains were burned.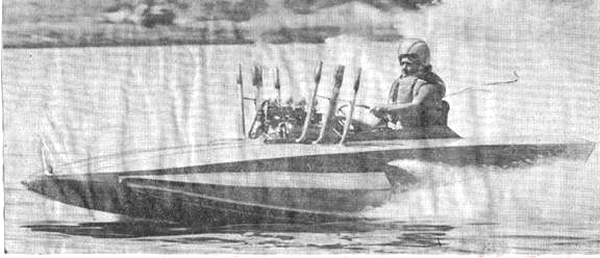 Steamline
Greg Holland
aka Miss Faria

Super Joey
Francis Ransley, David Jessup, R. Sharman, Adrian Smith
Owned by Francis Ransley, it was powered by a stock 13b Mazda rotary power plant and was capable of around 70mph.
Was sold to R. Sharman of Camdale, who also competed in a boat called Lil Roo.
Later ran an Isuzu Bellet engine.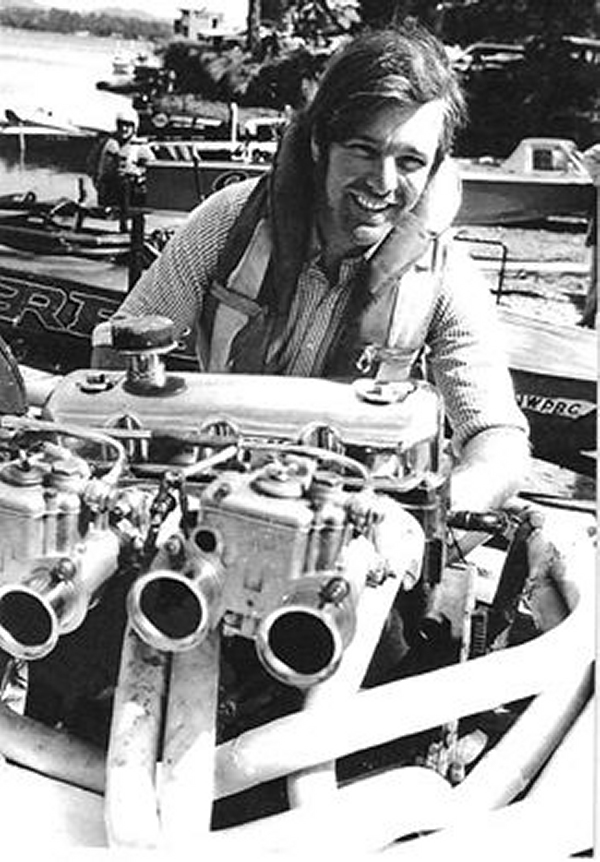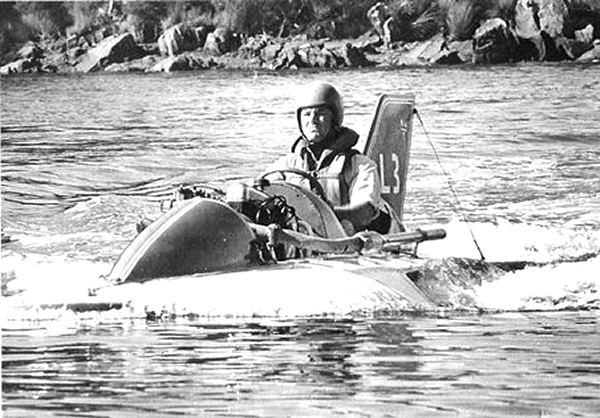 Super Roo
A David Gill hydro built and designed in Melbourne to suit a 6 cylinder Ford power plant. Owned by Francis Ransley who fitted a Boss 302cid Ford V-8.
Sold to Ron … … … … then to Peter Smith.
Some of the Tasmanian records of Super Roo under Francis Ransley's stewardship as 300ci and 5 litre are:
1 May 1971 82.24 mph
6 May 1972 97.26 mph
31Aug 1974 102.71 mph
6 Sept 1975 105.77 mph
16 Apr 1977 108.99 mph
During this time she won 6 state championships.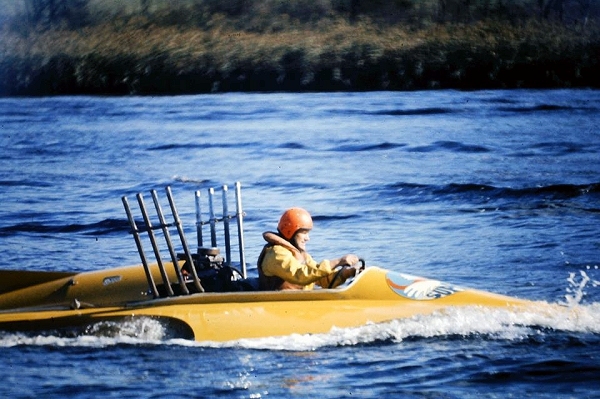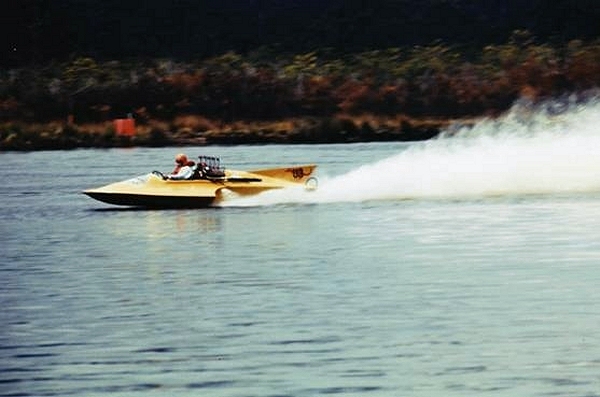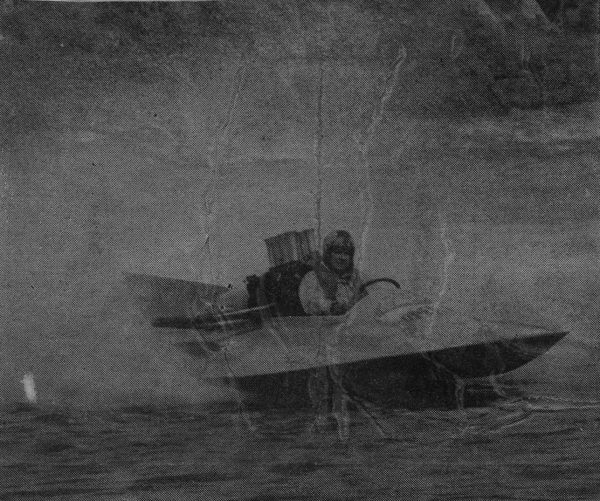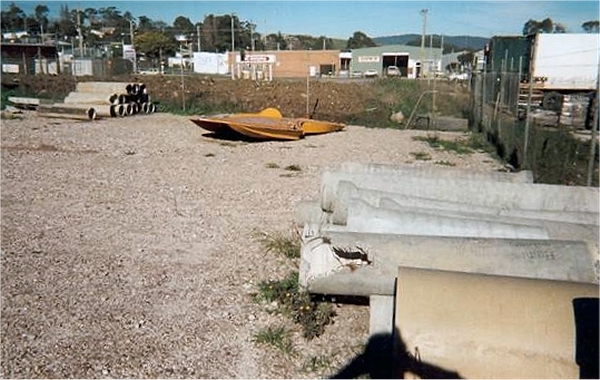 Super Roo looking very forlorn - she ended up on the tip.
Tammy
Unlimited outboard hydroplane.
Clocked at 44.79 at Franklin in 1970

Tee Cee
Owned by Brian Mahoney and built by Dave Gill, about 15-16 feet,
powered by the Lotus twin cam engine. Was raced here and on
the mainland.
Was sold over there, also early '70s.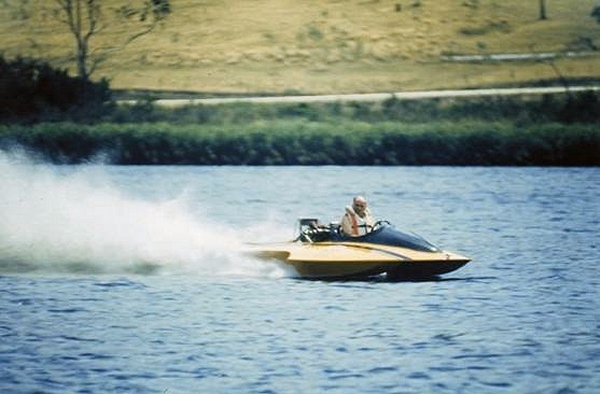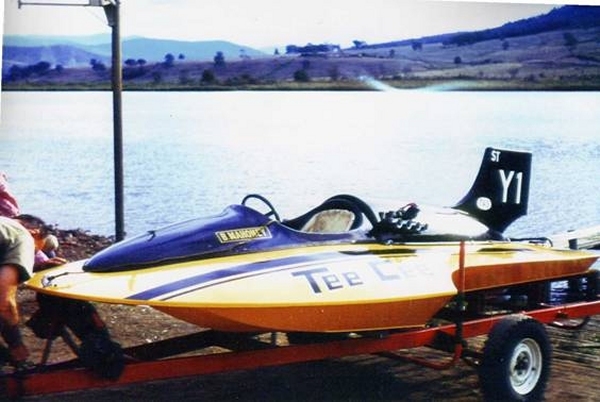 The Poacher

John Palmer

Originally Nigel Lovell's Afternoon Delight.

Powered by a 350 cid Chev, John won 3 Australian titles
(and 3 bi-centennial medals in 1988.)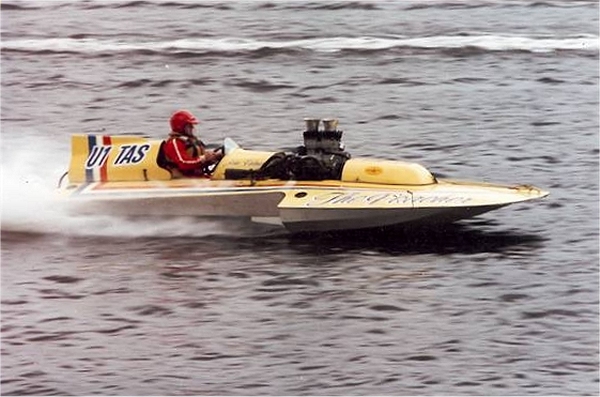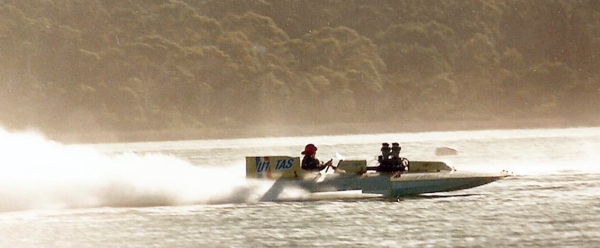 The Saint

Built by Tommy Hilder, possibly another 6er,
then sold to Tony Courtney.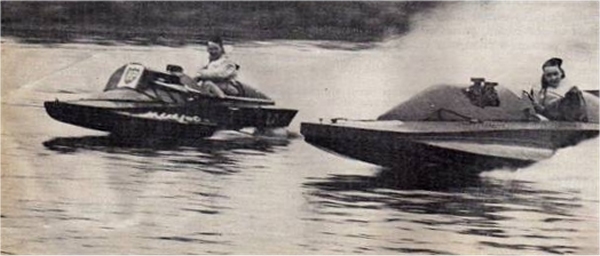 The Saint (on the right)
Thunderball

Original design by American Dr. Eastman (Piranha), modified extensively by Len Robinson.

Originally powered by a MGA engine, then a Cortina 1975-76 season. Broke 3 state records and took 3 state titles (achieved 86mph).

Then sold to Tony Gray of Hobart who powered it with a horizontally inboard mounted Mercury Twister powerhead (presumably from his skiff Dy-No-Mite after that hull was destroyed).


The famous USA boat Piranha, Built and designed Dr. Eastman.
Raced by Mickey Remund said to be the first successful
cab-over hydroplane.
Tiger

Also at the 1972 Devonport Apex Regatta.

She was owned & driven by George Petropolis of Devonport
and powered by a Ford V8.

George later raced Fireball (ex Gi Gi) and he built the hydroplane
Rocket for Brian Richards of East Devonport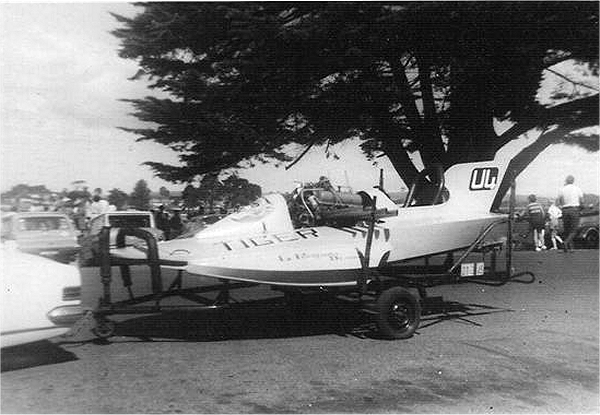 Tornado

Keith Bennett, Doug Ripper, Peter Smith

Then to Doug Ripper with a Toyota Twin Cam then to Peter Smith, then to John Palmer 1970-71.

Tornado was built by Keith Bennett for Robert England off a Champion Boat Co. USA. plan and powered by a Ford 75ci Cortina engine. Keith's Hurricane was the same plan but altered to be a bit bigger all round.

I also think Rocket was from a Champion plan.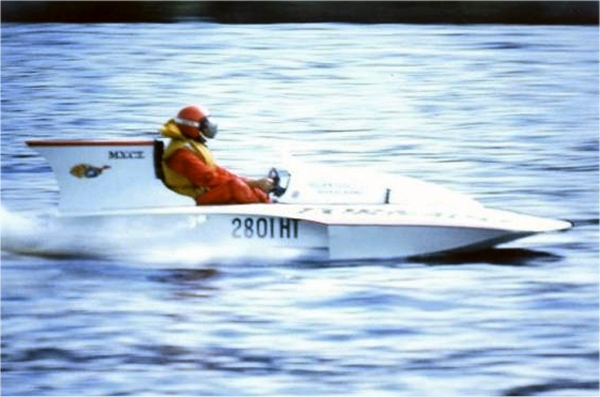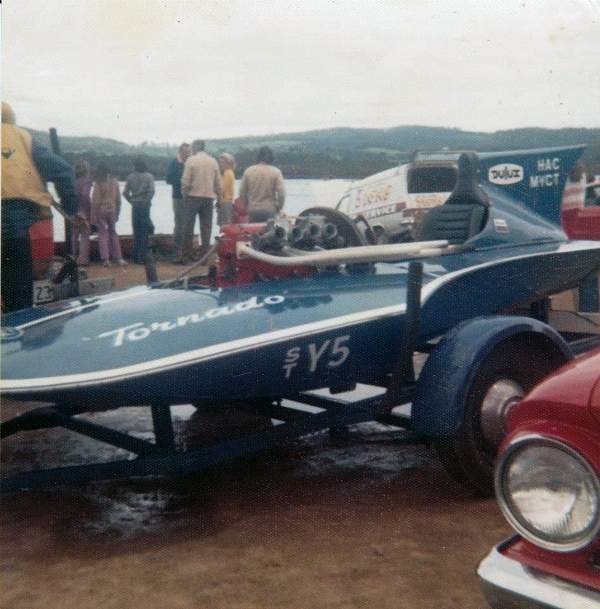 Touch Along
Dickie Crawford
Troubles

McCulloch Brothers

Probably another 6er.

Powered by a Holden engine, she was later raced by
Brian Richards as Hold On.
U-2
Mark Jessup, Bryan Lehner David Adkins
80hp Mercury
Carribean hull imported from the US (was at a mainland boat
show). Mark Jessup bought it.
David Adkins installed a 313 cid Chrysler V8 driving a home
made chain driven stern-drive.
Technically not an actual 3 point hydroplane, but was classified
as a hydroplane in its day.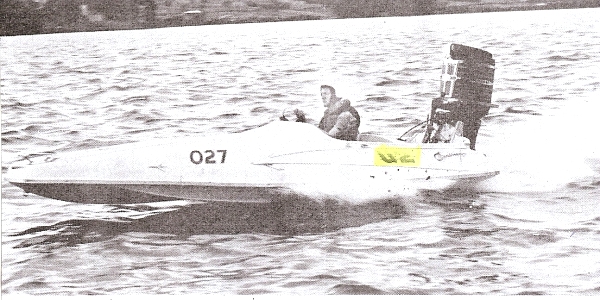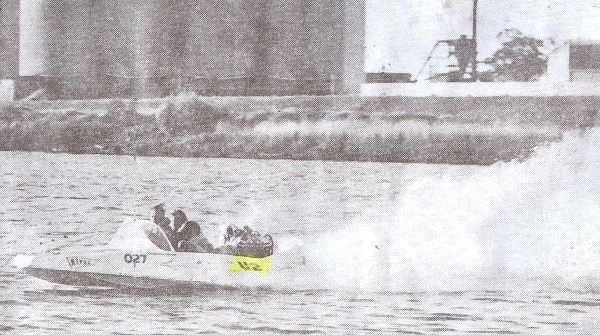 Ultimate
Mainland boat, now located in Risdon Vale.
Unsure if it has ever competed in Tasmania.