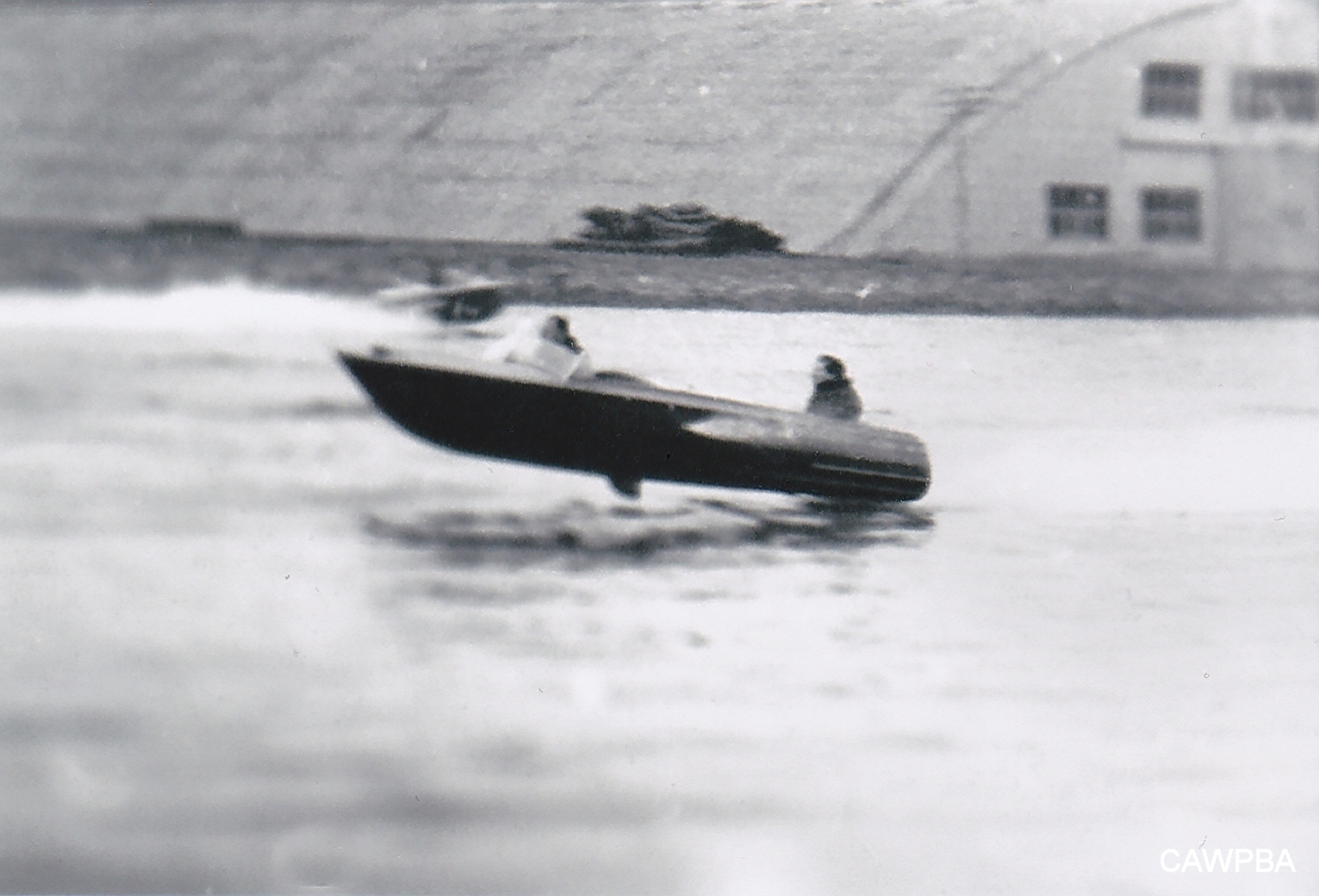 The first Trigger, an Everingham runabout
powered by a 6 cylinder Dodge. Silverwater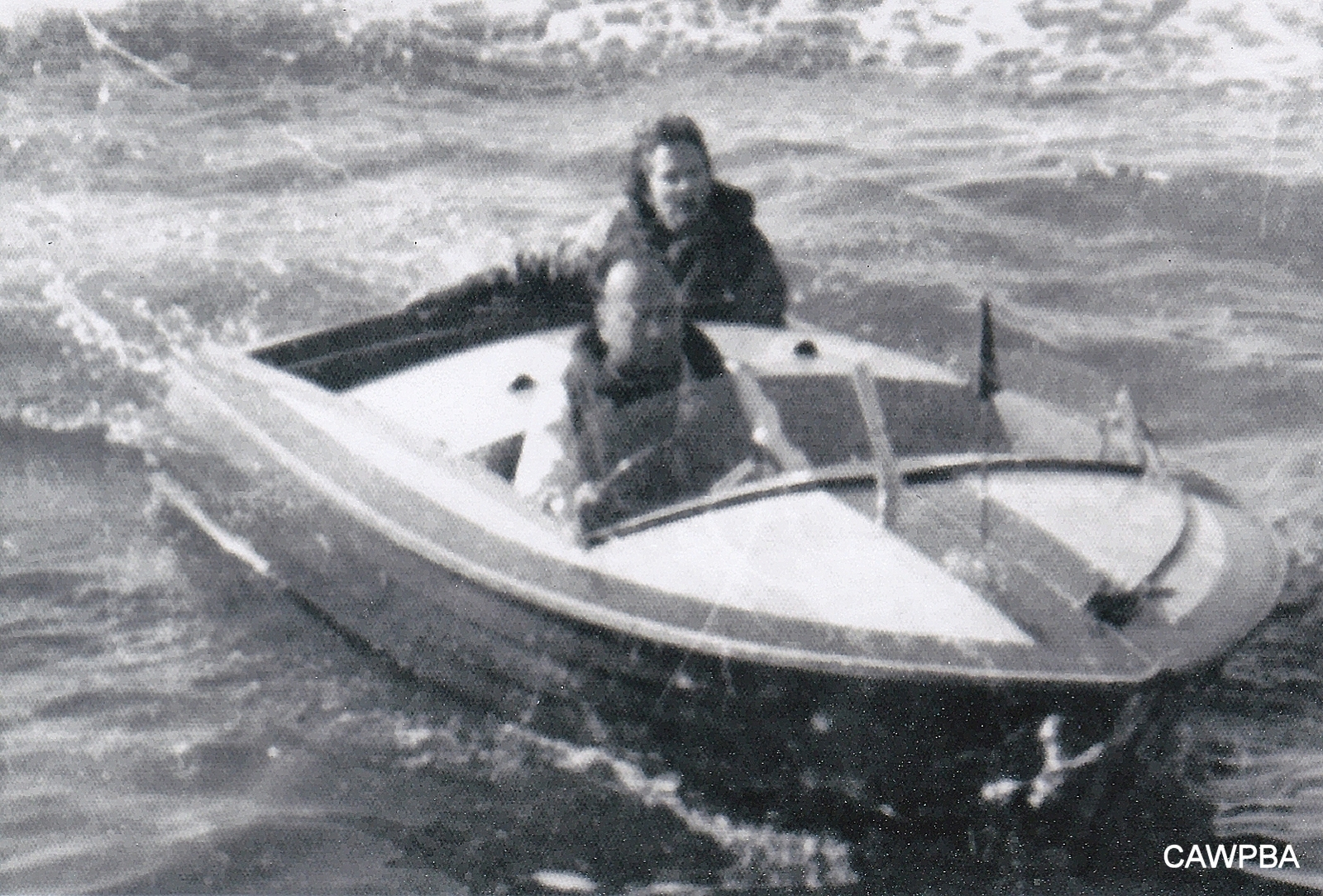 Trigger with Geoff's father Laurie and mother
Joyce Grimley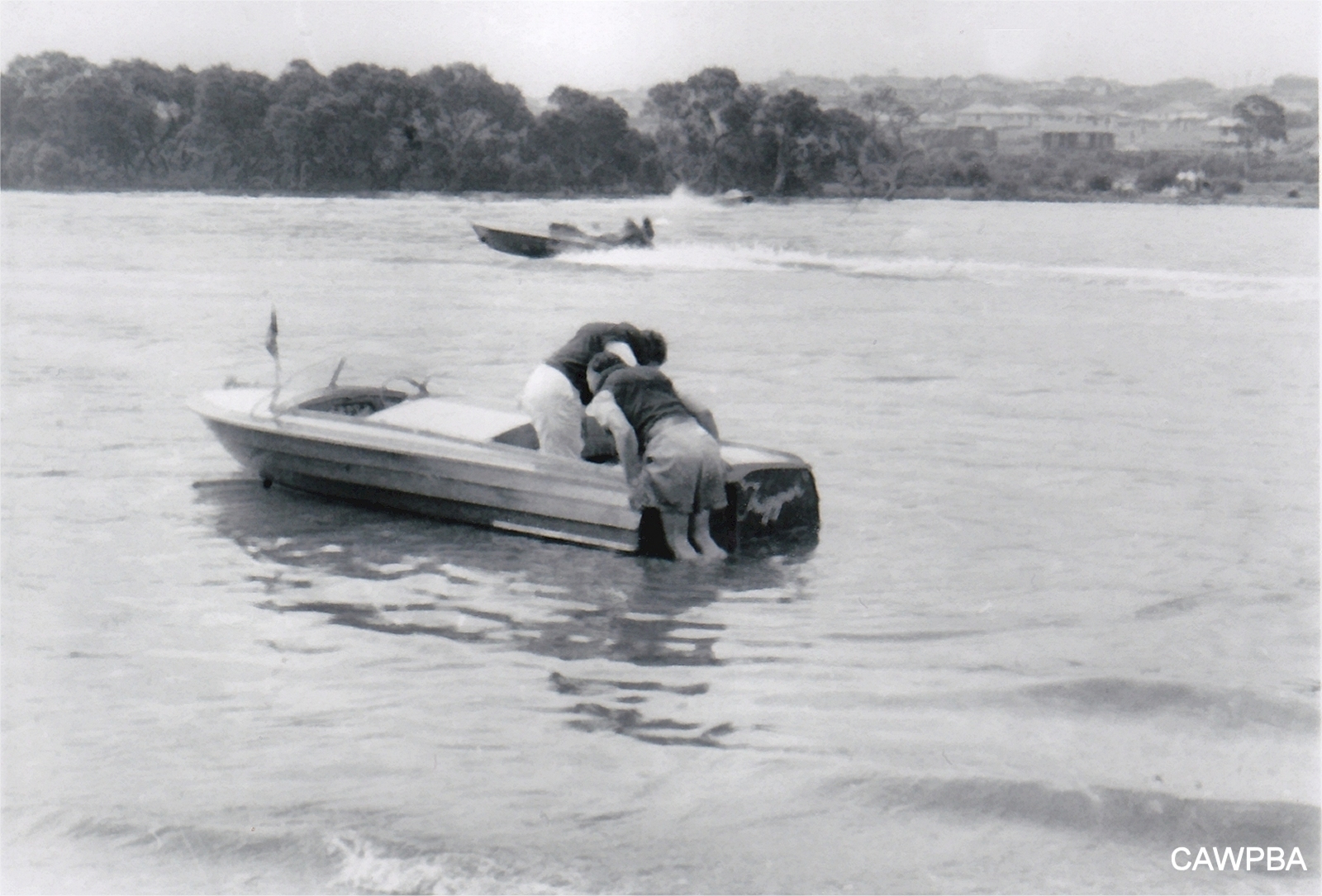 Trigger at Silverwater on the Parramatta River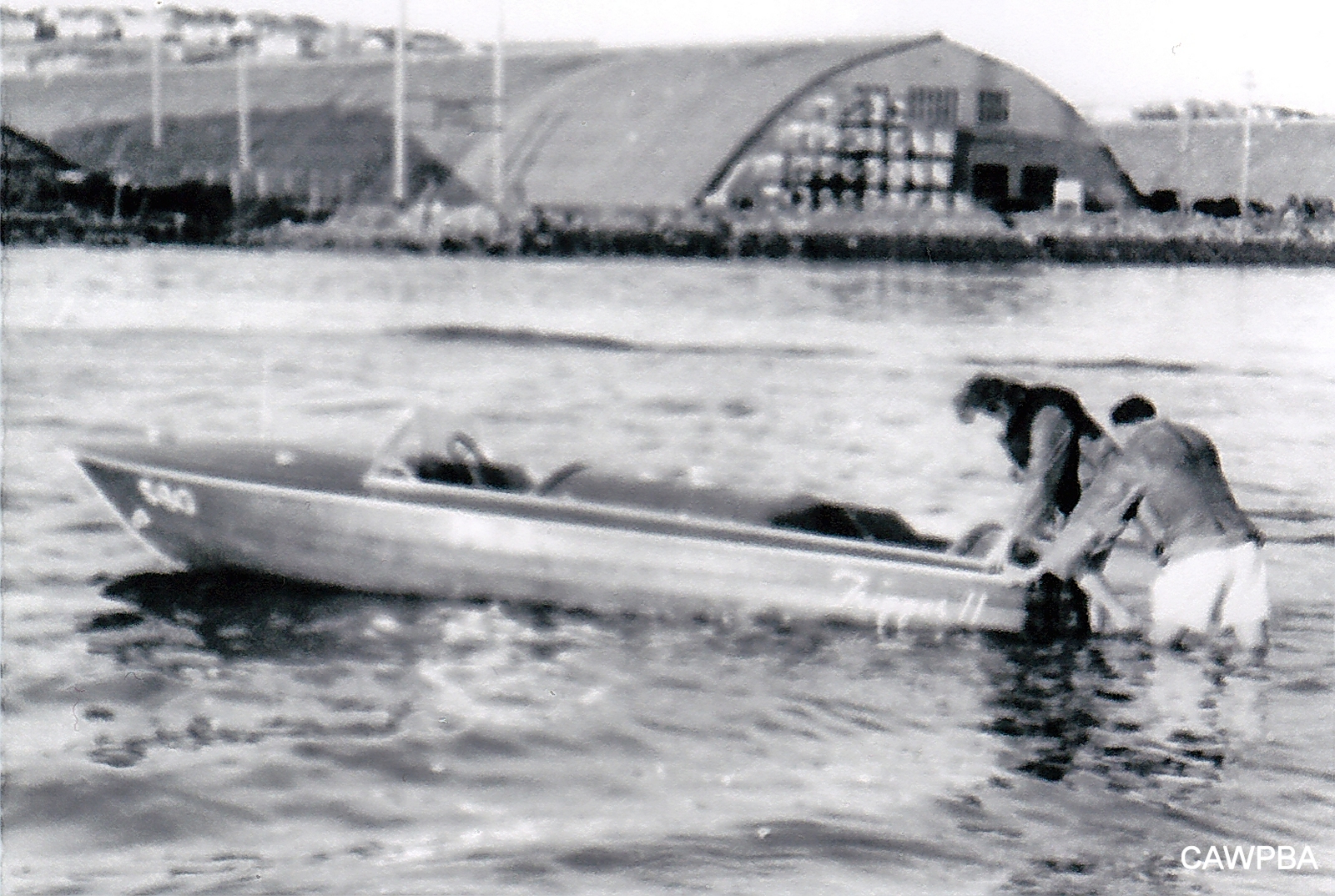 Trigger II, an Everingham runabout with a
Ford Y block V8, at Silverwater. (The sheds
in the background were used as armament
storage during WWII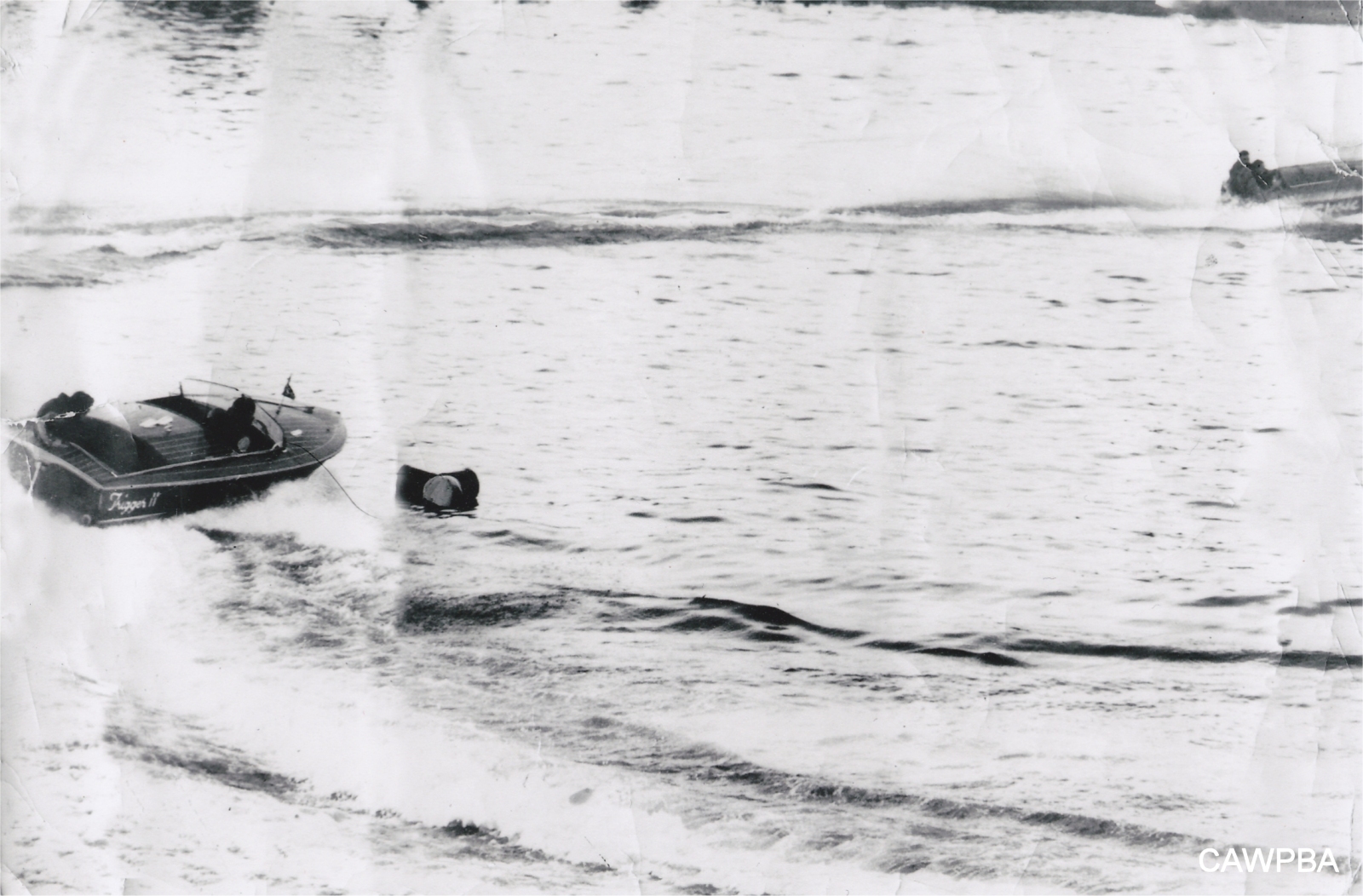 Trigger II at Deepwater. The other boat is
Wally Hall's Sybil, running a 'D' type Jaguar
Geoff Grimley's father, Laurie Grimley, raced the "Trigger" boats in the 60's. Laurie was a Ford man through and through and developed a lot of his own equipment from his engineering business at Silverwater in Sydney.
Geoff reflects on some memorable points in his father's boat racing career:
He won two Stuart Doyle cups and while leading in another at Port Hacking RMYC, the local Bundeena Ferry cut across the course, leaving a massive wake. The boat, Trigger III, leaped into the air and the motor, starved of oil, ran the bearings. After that incident he incorporated a baffled oil tank and dry sump and never had the problem again.
The Lewis hulled Trigger was champ of champs at St George Motor Boat Club, won many races at Silverwater, Deepwater, Cabarita, Port Hacking RMYC, Taree, Forster, Toronto RMYC, Broken Bay RMYC and also raced at Yarrawonga, winning the Frog Championship.
Dad was very faithful to the Everinghams. Old Bert treated him like a son, there was young Bert, and Bruce. Their boat building business was on the Hawkesbury River. They also had an orange orchard supplementing their boat building. My father ordered a runabout from Bert at the same time Frank Lewis said I will build you a much better boat. He jumped ship, sold the runabout and put his customary Ford Y Block V8 into the Lewis. Old Bert didn't talk to him for years as the two boat builders were arch rivals. Frank and Ritchie Lewis were located out at Taren Point.
I recall the pin holding the prop shaft onto the back of the motor sheared. The prop shaft swung the rudder at 90 degrees and the boat shot into the wharf at Deepwater boat club, demolishing one side of the boat and knocking over the wharf. At the time, Channel 2 was broadcasting. The sports announcer, Norman May, interviewed my father as people though he would have been killed. So that he could get his boat back in time for the next boat meet, both my father and myself were labourers at Lewis due to the amount of work they had on their books at the time.
One of the photos shows Jack Lewitz's Wendy, named after his eldest daughter. Jack was the pioneer of fuel injection on the Chevrolet Corvettes, however it would fuel up entering a corner. When he took his foot off the throttle at Deepwater, the motor cut out and the boat following him ran over the top of Jack. He never walked again.
In his engineering business my father converted several Ford Mustangs and in his honour, I have a new 5 litre Mustang.
I didn't get the bug for speedboat racing; I raced cars, an Elfin Formula V.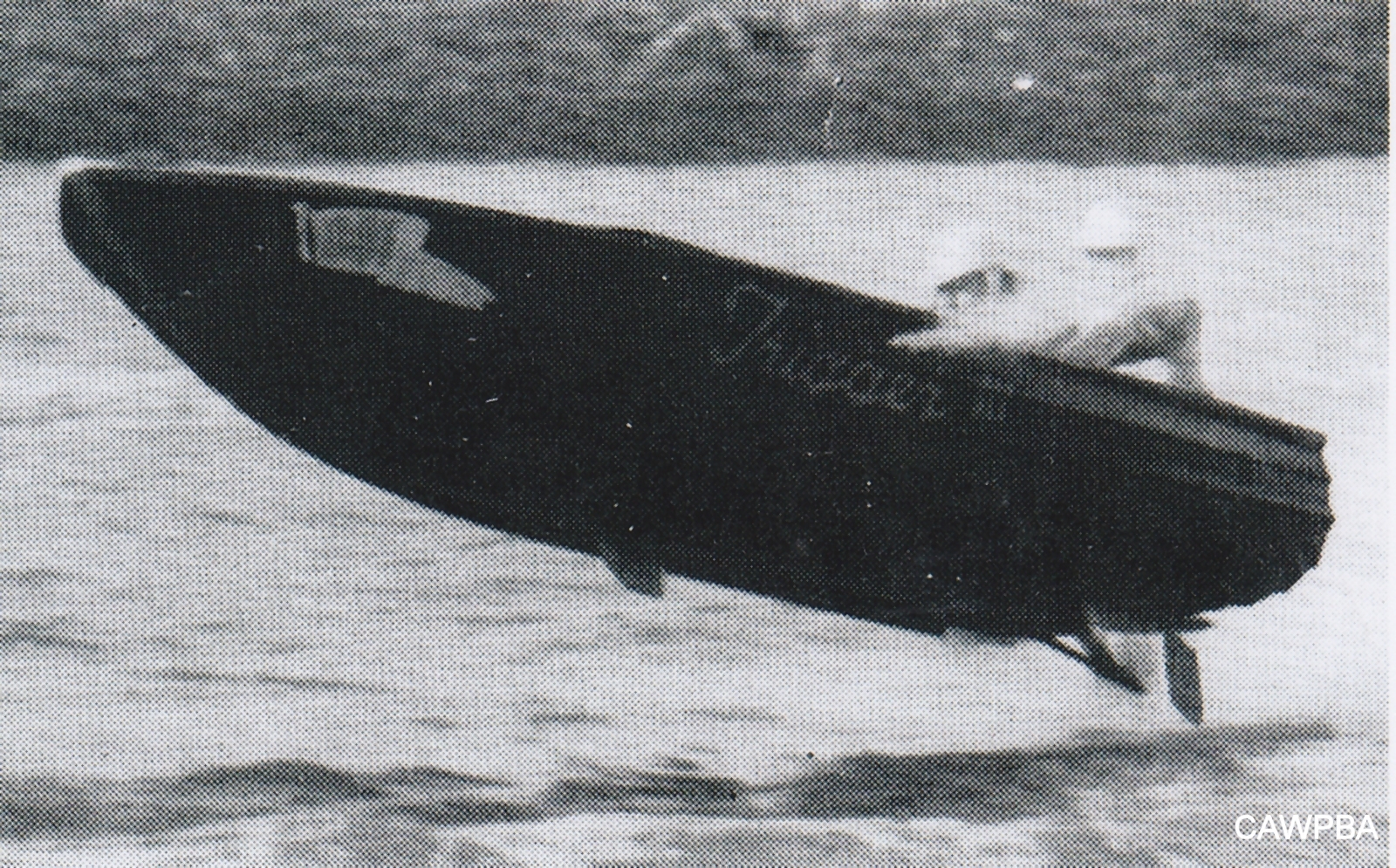 Trigger III at Silverwater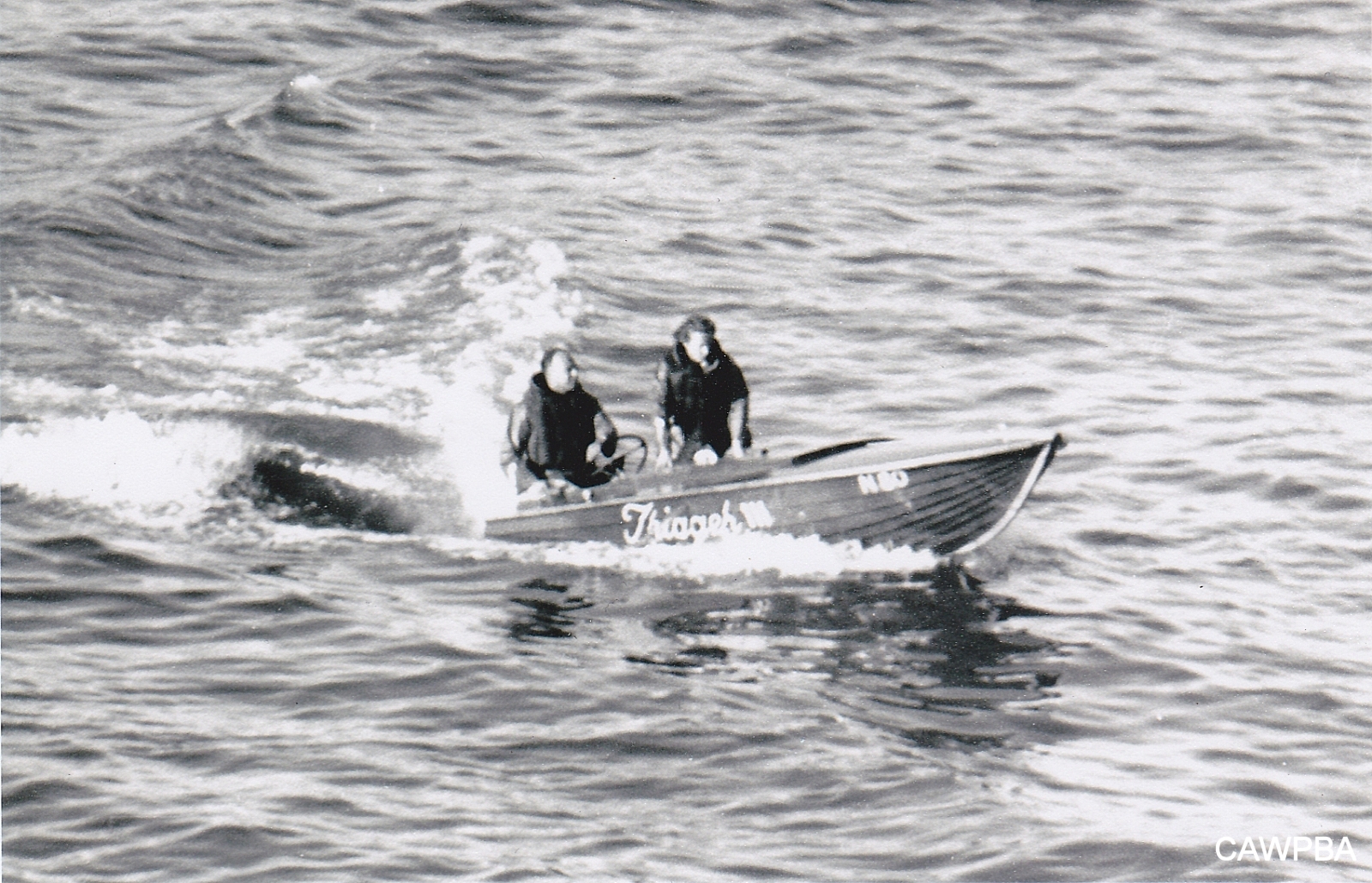 Trigger III with Laurie and Joyce Grimley.
Everingham skiff powered by a
Ford Y block.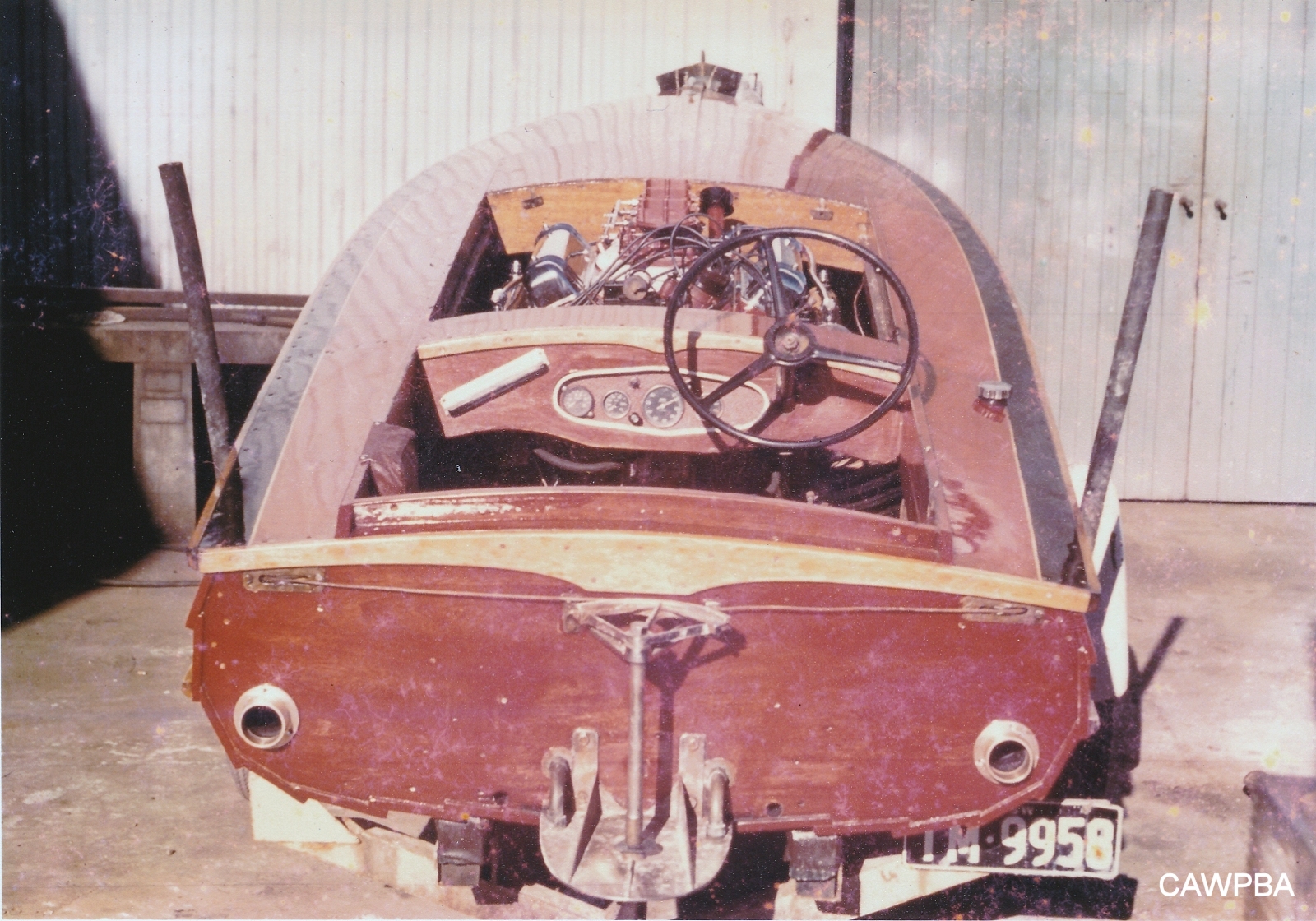 Trigger III. Magneto was from a 1928 Studebaker,
three double barrel Holley carburettors, Waggot cam,
triple valve springs and inlet and exhaust manifolds
fabricated by Laurie Grimley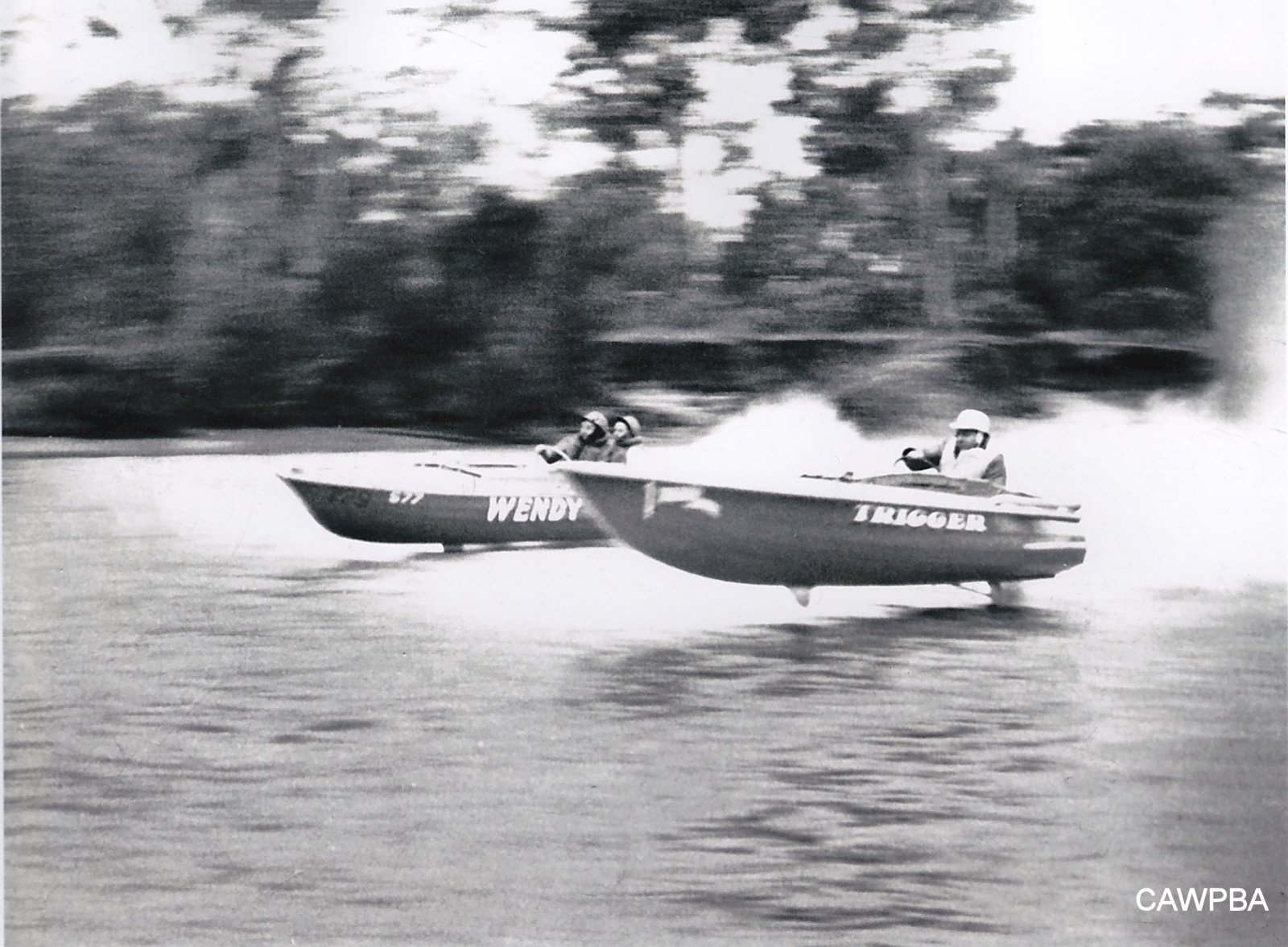 Trigger IV, a Lewis skiff powered by a Y block Ford
at Deepwater Motor Boat Club. Wendy with Jack
Lewitz and Keith Parsonage on board. Wendy
ran a Chev Corvette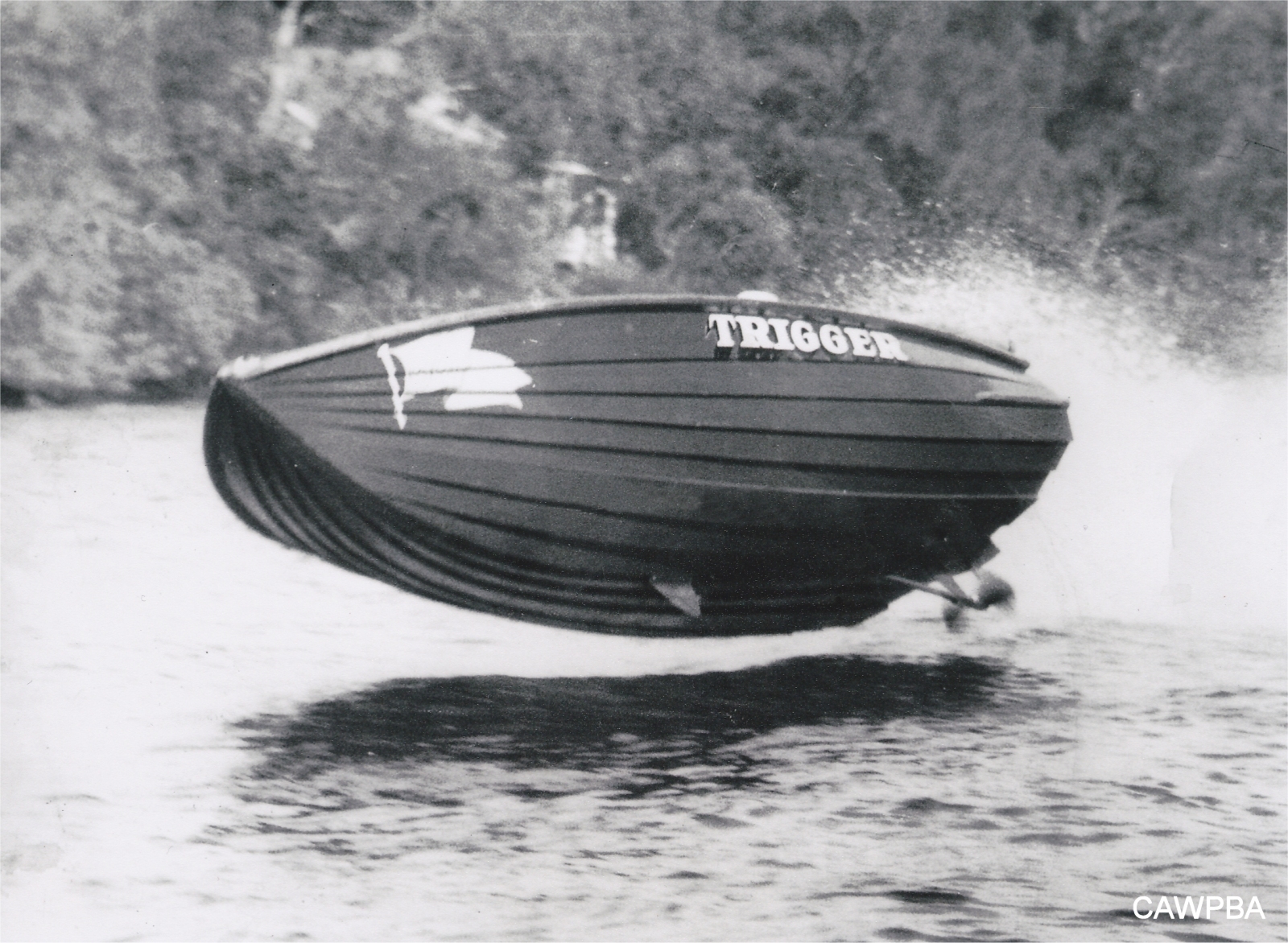 Trigger IV at Deepwater about to turn
the buoy