Classic Australian Wooden Power Boats
Nostalgia
Maxine
Dennis Watt sent in the following info and photos.
Dennis's father, Sid, raced speedboats in the late 50's early sixties in NSW, mainly at Lake Illawarra,
St George, Cabarita and country venues such as Shoalhaven,Moruya, Narrooma, Bega, Cooma and
Forster. All his boats were called Maxine.
His first boat was a Lewis runabout powered by a Chev Corvette 283 ci motor, his second boat was a 15'
Everingham runabout, again with 283 ci Corvette. This boat held the NSW runabout record at the time of 73
mph and won several championships including the "Fred Hawkins" at St George MBC. His last Everingham
was the first of the V drives, a 16 footer and sister boat to Wendy Ann (Jack Lewitz). It had a small sideways
rear cockpit to qualify it as a "runabout" and was also powered by 283 ci Corvette.
The photos below are of Maxine II and the third Maxine (just called Maxine). Also there is a photo of
Wanda, a Lewis skiff with a Ford Y block V8. The boat is being driven by Jack Rushton and was taken at
Silverwater. Jack Rushton died in a speedboat accident in 1959 or 60 at Kanahooka Point, Lake Illawarra.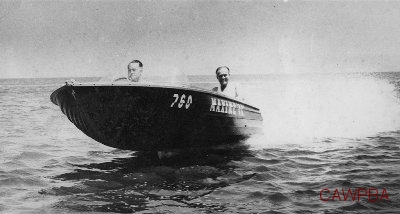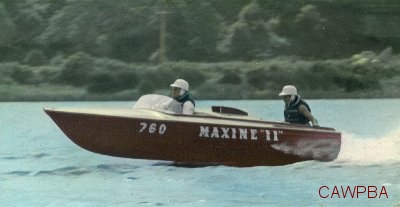 MAXINE II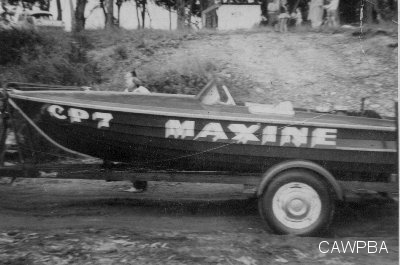 MAXINE (the third boat)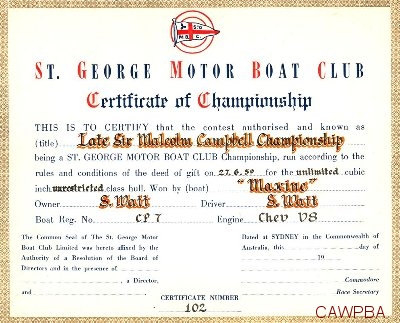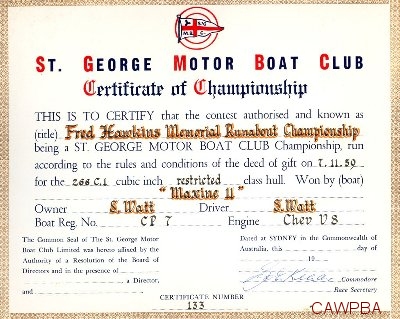 MAXINE III CERTIFICATES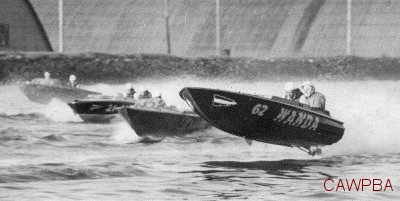 WANDA
---