Classic Australian Wooden Power Boats
Nostalgia
Mercury
Rob Horne sent in this picture of Mercury, a Lewis skiff.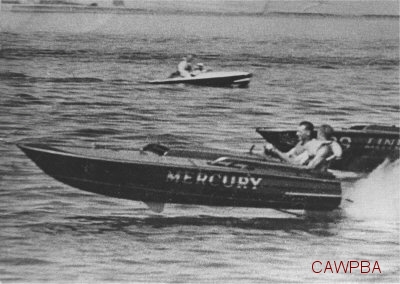 Rob suspects the photo was taken at Greens Lake Corop
with Ron Lynch from Echuca steering and that the boat
in the background is Lou Crump's boat Lindy Lou.
Mercury ran a 266ci Ford V8 and held a speed record at
one stage. Rob remembers seeing the boat race in the
Frog Trophy at Yarrawonga and believes Mercury won the
race in 1956.
A new boat was built by Keith Simpkin to replicate the
original and was powered with Jag 6. Not much is known
of this boat and its race history with the Jag motor except
that his late brother Geoff Horne bought it from Cam Pickens
of Echuca. He replaced the Jag with a fresh fuel injected
Windsor 266 ci Ford V8 coupled to a Haynes Vee drive .
The boat was raced at various VSBC meetings around late
1970's until retired. Geoff then set up a Jones hydroplane
with 302 ci Guerney Eagle Ford V8, which unfortunately led
to his death after a race accident at Lake Boga Nov 1981.
Mercury was sold to Gary Beehag who made it into a pretty
quick social runabout and then sold it to someone around
Sydney when Gary moved to QLD.
---